Here is an Excellent Opportunity for dental practitioners to contribute in research and development of dental equipment, products and services. Most of the times we have some excellent innovative ideas, but we don't know how to go ahead with its implementation.
Indian dental association and Scientific Jugaad funda with support from leading SME and MSME industry associations, expert execution partner, socially active knowledge partners, are launching India's most impact making virtual incubation centre to support Make in India initiative, supporting movement of Aatmanirbhar Bharat. The initiative intends to give a boost for manufacturing products locally and giving benefit to Indian dental community.
To empower IDA as India's leading dental research, knowledge sharing, technology, commercialisation, innovation and business Incubation for supporting and building Make in India products in dentistry.
To improve oral health through innovative research and timely transfer of research outcomes in order to enhance dental technology, dental practice and oral & dental public health.
Conduct Capacity building Programs for dental fraternity through industry mentors.
To connect stakeholders of innovation ecosystem to bring out more than 10 make in India products every year.
Pre-incubation stage mainly focuses two parameters which are Ideation and Research & Development. Oral healthcare professionals or company that has a potentially innovative idea can receive support from IDRF in full-scale research on the subject or product. During this period, the entrepreneur takes up the role where the transformation from the idea into a proof of concept can be done.This prepares one for understanding the technical feasibility of the idea proposed. IDRF will be responsible forsupporting the start-ups by mentoring or by creating right platform for right networking in the healthcare ecosystem. Once a marketable technology/product idea is evolved, IDRF can look at for Incubation Stage and shall assist the innovator in getting grants from various Govt/Pvt ventures.
Business incubation is the process of supporting an idea (Product or Service) from innovator or a team and enable its transformation into successful business venture.
IDRF can provide guidance, networking with quality mentors, estimation of cost, estimation of profitability, value proposition to the customer, procuring raw material, making first prototype, product packaging, strategic partnerships for effective marketing and sale, raising funds, managing finance, accessing technology, protecting our intellectual property, branding, analysing competition, and many more challenges that are faced by most of the entrepreneurs and start-ups.
Incubation centre helps start-ups through its systematic incubation process to overcome above challenges and accelerates their journey from idea to market by providing them supportive environment. It provides, physical infrastructure, mentoring and networking, operations support, validation support and finance.
"Scientific Jugaad funda Innovations" is incubation and innovation management execution partner who supports "Indian Dental Association", to manage its incubation program and related services.
Registered start-ups shall have revenue sharing association / collaboration for co-branding and sale of products and services under the aegis of IDA.
The focus of accelerator stage shall be on rapid growth and to sort out all organizational, operational and strategic difficulties that may be faced by the entrepreneur. IDRF utilises a highly systematic approach to achieve and establish the sustainable goal of the product or innovation.
The program is designed for all willing start-ups to validate their business idea and the solution they are trying to commercialise. It's designed to accelerate the process of finding success potential earlier or go for one more round of improvement before professionally launching the venture. All start-ups who are either connected with us through Start-up India Portal, or registered directly through our portal, are eligible to be benefited through our program. This program is offered in collaboration with Lexicon by Spin-Off from Singapore polytechnic. All Start-Ups who are connected with us through Start-Up India Portal, can avail this accelerator program completely free of cost.
Stage 1 (Define / Discover)
Invention V/S Innovation

Problem identification, Problem Impact, Analysing Solution Impact
Stage 2 (Empathise)
Analyse Competition

How maket need is uniquely addressed by your solution. What are the USPs?
Stage 3 (Ideate)
Name it, Frame it

People should recognise your product / service, understand how it solve problem
Stage 4 (Plan)
Develop product / Solution

Proof of Concept, Rapid prototyping, Pilot production planning and scheduling
Stage 5 (Protect)
Protecting You Idea

Understand protecting your intlectual property ( Copy right Trademarks & Patients)
Stage 6 (Build)
Build Model

Product / Service Modal Bussiness model, Proposition of Value, Customer journey
Stage 7 (validate)
Product to Market Fit

Have trial sale, Acquire inital customer feedback, Identify potential
Stage 8 (Fund & Finanace)
Go to Market Strategy

Refine strategy, Estimate fund requiements, Define cashflow, Bussiness pitch
Stage 9 (Launch)
Launch and Execute

Make it happen, Repeat important stages, Look inside Think Out of Box
Students, professionals and others can enrol for our 48-weeks training programme. The detailed program can be seen below:
Phase No
Activities
Duration
1

Idea Resonator Program/Incubation Ignition Initiative
Announcement of challenges by dental community to make aware various colleges/industries/ stakeholders about "Dento Incubator" initiative and appeal them for participation
To arrange a project challenge competition
Identify various projects/ideas with commercial potential
Analysing and evaluating the projects with commercial value, which industry can support

8 Weeks
2

Training Programs

Mentor training Program
Incubation Management process training

6 Weeks
3

Dashboard training and Industry Connect

Defining processes and policies of incubation centre
Establishing connect with Industries for start-up support ecosystem
Providing dashboard for incubation centre management
Linking of industries on the dashboard

4 Weeks
4

Hackathon/Challenge Competition

Arranging Hackathon/challenge competition

6 Weeks
5

Idea Accelerator Program

Validate your business idea
Create a minimum viable product (MVP) and business model
Convert idea into product and product into business
Understand Customer segments, persona and empathy study
Build a compelling Value Proposition and Elevator Pitch
Learn Branding and Marketing
Perform Competitor analysis and learn go to market strategy
Understand ownership, IP, Legal Requirements and Financial management
Learn to "pitch" a new venture, investors and other stakeholders

20 Weeks
6

Start-Up Accelerator Program

Support for company formation
Legal Compliances
Logo designing
Linking with start-up India portal
Support for MSME registration and DPIIT Recognition

4 Weeks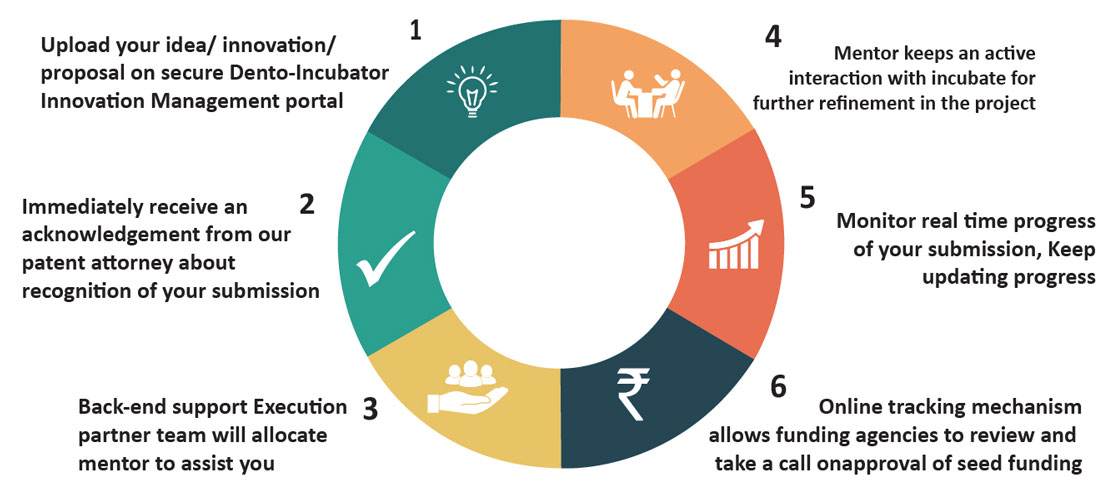 Scientific Jugaadfunda innovations LLP is positioned to interconnect various stakeholders, bringing them together in an ecosystem. Our team focuses on validating the problem and providing support to our stakeholders.
We embrace following stakeholders in our system: Academic institutions, young minds, Government, Industry bodies, Corporate, Research Labs, Business Incubators, and Investors & Mentors. Every stakeholder is given equal opportunity to earn profit & get benefit out of this ecosystem. We need innovation, skill & entrepreneurial mindset to support institutes, Innovators & SME's. One stop for every career opportunity & we transform 'Job seekers to Job creators'.
You are the next stakeholder we're looking for!
Let's work on Problem Solving!! As we always say "When passion & ambition works together, EXPECT A MASTERPIECE!"
Act as an execution partner (Program operations, execution, Calling and backend support)
Enable stakeholders like industries, colleges, students, and mentors to effectively connect and contribute in IDA activities.
Provide access of dashboard to different stakeholders enabling them for efficient contribution and fetching benefits of their interest.
Setup the processes and policies, back-end support required for execution and delivering of the programs defined and planned as per 48-week schedule of centre operation (see below).
Execution of different programs/seminars as defined in the annual schedule of operations.
We understand needs of the start-ups. We shall determine which specific services best fit the needs of the start-ups and negotiate the service fees associated with these services/ equity/ convertible debts in a separate contract, based on pre-validation and acceleration program. The incubation policy document covers all entry-exit options for idea-to-incubation process. Based on stat-up needs, they can flexibly choose the required services.

Become certified mentors from global universities of repute and encash your knowledge and experience
Commercialize your domain expertise and skills by grabbing matching consultancy opportunities from industries
Find opportunity to become partner with matching innovators/start-up by mentoring them for their success during business scale-up stage
Opportunity to work on innovative projects of your interest and liking
Opportunity to build team of like-minded individuals and grab funds for successful commercialization of your idea
Opportunity to choose Matching Business Idea from Young Start-Ups to Complement Existing business Share Domain
Access to q pool of Qualified Professional Trainers and Experts Available as Consultants
Access to Technology Developed at Globally Reputed Research Labs and Universities to Support Business Innovations
Documentation and Content Development Support for Business Upgrade from Qualified Experts
Opportunity to get multiple innovative solutions from young creative minds by hackathons and challenge competitions through linked incubation centre for your business success
Build team of likeminded professionals to form special interest group
Build and offer your unique skill development program
Networking opportunity to interact with other institutes, universities, and industries
Apply and fetch funds and grants
Faculty development program on "Innovation and Industry Readiness"
Mentoring and operational support for IP Protection
We are working closely with Start-Up India Seed Fund Scheme, enabling our deserving Start-Ups to raise funds. We are providing information of different funding schemes to start-up and helps them in writing the proposals.